Chicken Parmesan
Bookmarked
Bookmark this page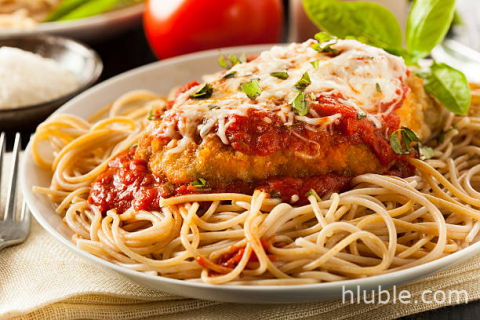 Ingredients
1 pound chicken breast, cut into thin fillets
1 egg
2 tablespoons milk
1 cup flour
1 cup dried bread crumbs
Seasoning for the crust:
1 teaspoon garlic powder
1/2 teaspoon oregano
1/2 teaspoon thyme
1/2 cup grated parmesan cheese
1/4 cup oil for frying
Marinara sauce and mozzarella cheese, to top
Cooked pasta
To make
This Italian chicken dish may seem luxurious, but it is really quite simple to make and perfect for a weeknight dinner.
Cut the chicken into thin fillets so they will cook quickly
Whisk the egg and milk together. Mix the seasonings with the dried bread crumbs.
Coat the chicken fillets in the flour, then egg mixture, then bread crumbs.
Coat the bottom of a flat skillet with oil and heat over medium temperature on a stove.
Cook the chicken until brown on both sides, about 2-3 minutes per side.
Place the chicken in a baking pan, top with marinara sauce and mozzarella cheese, and bake in oven at

350ºf/175

º

c for about 10 minutes, until cheese is melted.
Serve with pasta and fresh basil, if desired.
Views: 2447
Published: 10/13/2019 6:39 AM
Was this recipe helpful to you?