Meat loaf with mushrooms in bacon
Bookmarked
Bookmark this page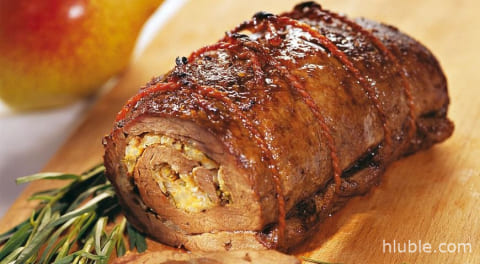 Ingredients
800 grams of minced meat
Mushrooms, preferably field mushrooms 250 grams
One small carrot
One onion
Three cloves of garlic
One egg
Five tablespoons of crushed crackers
Add pepper and salt to taste
Sunflower oil
200 grams of bacon
To make
Spicy meat loaf with mushrooms, baked in bacon will decorate the family holiday table.
To prepare a very tasty meat loaf, it is better to use a combined stuffing (beef, pork, chicken). Take only minced pork is not desirable, as it emits a lot of fat and liquid. Mushrooms can be both white and brown.
First of all, you need to clean and finely chop the onion. Crush the garlic, grate the carrots finely. Put aside a few mushrooms, the rest should be finely chopped. Grease the pan with sunflower oil and heat. First, in a heated pan until Golden brown onions need to fry, then add the prepared carrots and mushrooms, fry until tender. Ready mix vegetables and mushrooms on a platter. Bacon cut into thin slices.
In a large bowl put fried mushrooms, minced meat, egg, crushed garlic, crackers, salt and pepper to taste. All the ingredients are thoroughly mixed. In the baking dish you need to put the bacon, so that the slices hung from the walls. On top of the bacon and put half of the stuffing. In the middle in a row to lay out the whole mushrooms. Put the remaining minced meat on top of the mushrooms and lightly tamp. Then wrap the edges with slices of bacon, so they covered the whole roll. The resulting meat loaf with mushrooms put in a preheated oven and bake for an hour at 180 degrees.
Views: 1984
Published: 08/04/2019 5:06 AM
Was this recipe helpful to you?