Red sea salad
Bookmarked
Bookmark this page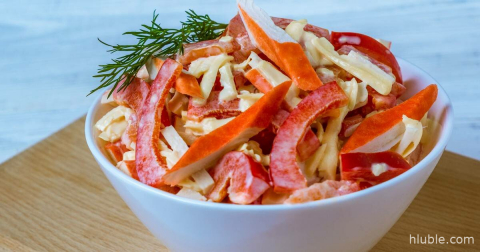 Ingredients
250g crab sticks
150 gr hard cheese
200 g tomatoes
200 gr red sweet pepper
3 garlic cloves
Salt and pepper to taste
100 - 150 g of mayonnaise
To make
This is a simple and quick to prepare salad, but very tasty. It is called the red sea because all its ingredients are red.
Remove the tomato pulp, cut into 4 pieces and then cut into strips. Remove the seeds from the pepper and also cut into strips. Crab sticks similarly cut into strips and mix with tomatoes and pepper. Next, grate the cheese on a large grater, and garlic on a small one and add to the salad. Season the salad with mayonnaise, but do not rush to salt it, as many ingredients such as cheese, mayonnaise, crab sticks are salty. Try it on the taste, maybe you do not even want to salt it. Optionally, you can also add ground black pepper.
I hope this salad recipe will be useful to you. Cook with pleasure and culinary masterpieces to you.
Views: 3434
Published: 10/21/2019 5:47 AM
Was this recipe helpful to you?