Salad of mozzarella "Buffalo" and green asparagus
Bookmarked
Bookmark this page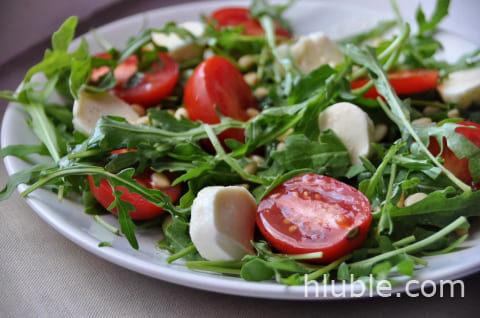 Ingredients
210 grams of green asparagus
Two tomatoes
240 grams of Buffalo mozzarella cheese»
45 milliliters balsamic vinegar
A clove of garlic
75 milliliters olive oil
Condiment
Half a bunch of fresh Basil
To make
In total, the preparation of this dish will take 20 minutes. Recipe "mozzarella cheese salad" is designed for cooking for 2 persons.
Residents of the Shangnau region, located near Bern produce amazing mozzarella cheese "Buffalo". They create it according to one of the oldest Italian recipes, from fresh milk of young Buffalo, which graze on the numerous and vast green meadows of the Berne region. But not only the cheese is part of this salad, but also an amazing green asparagus, a famous spring delicacy that will melt in large quantities in the region. Both of these products in combination with each other create a recipe for a delicate, fragrant and light salad.
Cooking process:
From the selected ripe tomatoes, remove the seeds, and the resulting pulp is cut into small cubes as possible, all shift into a salad bowl.
Push through the press one clove of garlic.
Add to the tomatoes balsamic vinegar and garlic, pour all the oil and season with pepper and salt.
Fresh, young asparagus washed, cut the lower part of it. The remaining stem is cut into three or four parts at an angle of about 45 degrees.
Boil in a steamer for 8-9 minutes so that the stalks of asparagus are not digested, but remain slightly crispy.
Immediately take them out and shift into cold water, preferably with pieces of ice, which will stop the process of softening the asparagus and give the opportunity to preserve its original color.
Mix the asparagus with the tomatoes and place in two bowls.
A ball of mozzarella cheese is disassembled by hand into very small pieces, spread on a salad. Sprinkle the salad with chopped Basil greens and serve the salad with mozzarella cheese.
Note: by the way, the classic mozzarella and should not be made from cow's milk, as we used to see in stores, and from milk, which give Buffalo.​​​​​​​
Views: 5451
Published: 08/04/2019 6:01 AM
Was this recipe helpful to you?