Salad "Summer all year round»
Bookmarked
Bookmark this page
To make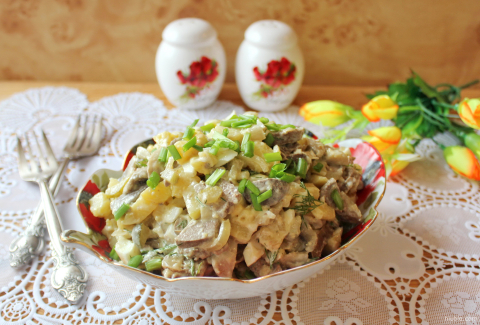 First of all, we need chicken liver (300-400 g). Liver wash, fry, salt, and p pour into the pan a little water and simmer until soft. When the liver cools down, you need to cut it into smaller pieces.
Take a small head of Peking cabbage and cut it into thin strips. Then grate any hard cheese (200 g) on a coarse grater.
Mix cabbage, liver, cheese and a package of rye crackers. Add mayonnaise and spices to taste. Take half a grapefruit, clean it, remove the white film, cut into pieces and decorate the salad.
If you like crunchy crackers, add them before serving, if you do not attach importance to this, then make a salad in advance: after the liver and bread are soaked with mayonnaise, the dish will become even tastier.
Views: 1639
Published: 10/17/2019 4:28 AM
Was this recipe helpful to you?