Carrot burgers with peanut sauce
Bookmarked
Bookmark this page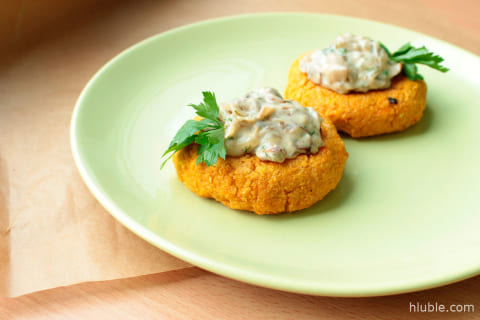 Ingredients
White sesame seeds (two tablespoons);
Young carrot (620 g);
Ground crackers or breadcrumbs (seven tablespoons);
Olive fragrant or softened butter (one and a half tablespoons);
Ready-made nut paste (78 g);
Peanut oil for frying (at its sole discretion);
Finely ground black pepper (to your taste);
Selected raw chicken egg (one piece);
Fresh lemon juice (one teaspoon);
Cream of medium fat (56 ml);
Sugar sand (one teaspoon);
Peeled peanuts, chopped (three tablespoons);
Fine salt (at its discretion);
Large garlic cloves, pre-peeled (two pieces);
To make
From the young carrots are not only wonderful soups, but also excellent diet, delicious cutlets that can be prepared with walnut sauce.
All carrots in advance to clean and wash, then grate it smaller, in a bowl with grated carrot mass to add sesame seeds white, and a little salt to taste, raw chicken egg, ground crackers and oil, hands thoroughly mix everything.
From the resulting mass to form a round cutlets, put them on a well-heated pan and fry in a small amount of any vegetable oil on both sides for two minutes.
Prepare a deep baking sheet, cover the bottom with baking paper, put the cutlets with sesame seeds in it and send them to the oven for seven minutes, bake at 230 degrees.
While they are baked, you can do cooking nut sauce for them in a blender to put garlic, ground peanuts, sugar, and cream, lemon juice and freshly squeezed nut paste to send there, then all until smooth whisk.
Once the carrot cutlets are cooked in the oven, put them on a large dish and serve with walnut sauce.
Views: 1453
Published: 08/04/2019 5:02 AM
Was this recipe helpful to you?