Chocolate brownie
Bookmarked
Bookmark this page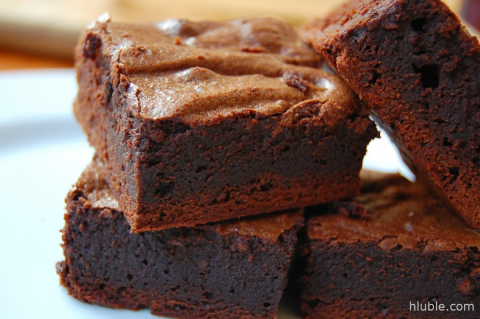 Ingredients
225 g butter
400 g sugar
4 eggs
1 h spoon of salt (with a small slide)
180 g flour
1 h spoon vanilla sugar
To make
This is a classic chocolate brownie recipe without adding nuts, cherries or raisins. The first thing you need to prepare the form, I use the size of 23 by 23 and the height of the sides of 4 centimeters, be sure to cover with siliconized parchment, if you have an ordinary food, lubricate it with abundantly crushed butter and then stretch the form of this parchment.
Now you can prepare the dough. In flour, pour the salt and mix well, cut the butter into pieces, and add the chocolate, breaking it into pieces. Put on a small fire a pot of water and this water to put a bowl of butter and chocolate. Chocolate and butter will melt well in hot water and will never burn. Next, mix 2 eggs and 2 cups of sugar, mix well. When the chocolate and butter are smooth pour 150 grams of sugar and mix well, add the egg sugar mixture and stir for about 1 minute. Now whisk the remaining 2 eggs and half a Cup of sugar until fluffy, since there is no baking powder in the dough, the eggs must be beaten so that when baking the brownie rises a little. Turn on the oven at a temperature of 170-180 degrees. Again add the beaten eggs with sugar and stir until smooth, add the flour. Put the dough in the form, smooth and put in the oven. Bake for about 25 minutes.
Once the brownie is ready, allow to square pieces. It will turn out very tasty and fragrant. Before serving, it can be sprinkled with powdered sugar or whipped cream. Based on this recipe, you can diversify your brownie by adding raisins, cherries, nuts. All this is added when the dough is ready. Cook with pleasure, delicious baking and a pleasant tea party.
Views: 931
Published: 10/08/2019 7:50 AM
Was this recipe helpful to you?