Peach Cobbler
Bookmarked
Bookmark this page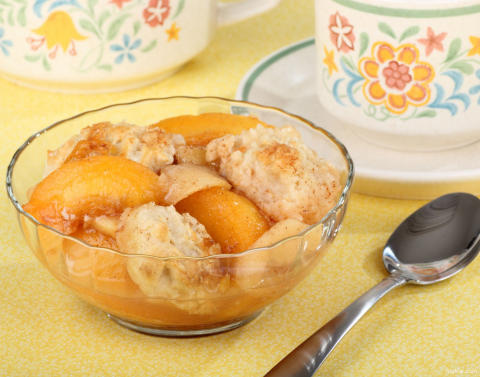 Ingredients
1/2 cup butter, melted
1 cup flour
1 1/2 teaspoon baking powder
1/2 teaspoon salt
1 cup milk
1 cup sugar
2 cups peaches, sliced, peeled, and seed removed
Sugar for topping
To make
This simple dessert can be used with any soft fruit or berry that is in season. Try it with blueberries or pears!
Directions:
Preheat oven to 350°f/175°c
Sift together dry ingredients.
Add milk and sugar, mixing to make a batter.
Place melted butter in a glass baking dish or a cake pan.
Add batter on top of butter, do not stir.
Spoon peaches evenly over the batter. Sprinkle with sugar.

Bake until light brown, about 30-40 minutes, cobbler will rise up around the fruit.

Can be served as is, or with vanilla ice cream.
Views: 2081
Published: 10/12/2019 4:57 AM
Was this recipe helpful to you?