Shrimp Scampi
Bookmarked
Bookmark this page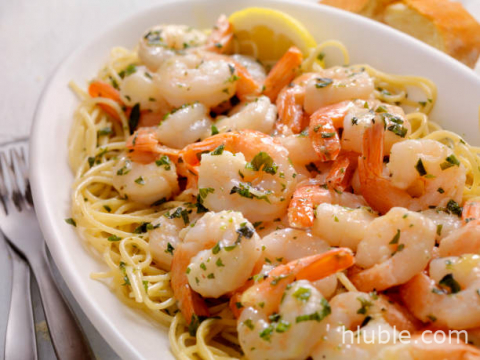 Ingredients
1 pound raw shrimp, peeled and deveined
4 tablespoons butter
3 cloves garlic, minced
1 tablespoon fresh parsley, chopped (or 1 teaspoon dried parsley)
Juice from 1/2 lemon (about 2 tablespoons)
Zest from 1/2 lemon (about 1.5 teaspoons)
Salt and pepper, to taste
Cooked noodles (optional)
To make
A simple and fresh shrimp dish perfect for summer nights. Serve with pasta for a filling meal!
Coat the shrimp in the lemon juice, salt, and pepper, and allow to sit for at least 30 minutes.

Cook the garlic in the butter on the stove over medium heat.
Add the shrimp mixture, lemon zest, and parsley.
Cook for about 4 minutes, until the shrimp is pink and white and no longer translucent.
Add more salt and pepper to taste.
If you would like, toss the shrimp mixture with cooked pasta.

Views: 1628
Published: 10/28/2019 5:24 AM
Was this recipe helpful to you?